Red Bull Grand Prix of The Americas
ニュース: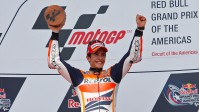 Saturday, 27, April 2013
65年のチャンピオンシップにおいて、最高峰クラス2戦目で初優勝を飾ったマルケスは、アゴスチーニ、シュワンツ、スペンサー、シーン、レイニー、ローソン、ロッシら、輝かしい成績を刻んだライダーたちの初優勝記録を上回ることに成功した。
全文を表示 »
フォトギャラリー:
Circuit Of The Americas:
サーキット情報
全長距離: 5.513 m / 3.426 miles
幅員: 15m
左コーナー数: 11
右コーナー数: 9
直線長: 1.200 m / 0.746 miles
開設: 2012
改修:
イントロダクション:
The Circuit Of The Americas is the first purpose-built Grand Prix facility in the U.S. near Austin, Texas, with a 5.513km track and a capacity for 120,000 fans. Construction of the impressive 1000-acre facility was completed late in 2012, with MotoGP lining up at the track for the first time in 2013.

One of its more distinctive features is near 41m-elevation change with an impressive incline at the end of the home-straight followed by a sharp left. The circuit is one of the most varied on the GP circuit, with a mix of fast straights and tight hairpins, with most sections mirroring at least some part of a famous track around the world.

It was designed by well-known German architect and circuit designer Hermann Tilke. The driving direction is counter clockwise and has a total of 20 corners with 9 right turns and 11 left turns.

Sales for the %year %gp_name are not yet open.
Thank you for your interest. We will contact you when sales open.
Tickets are no longer for sale