Gran Premio Iveco de Aragón
ニュース: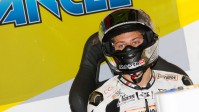 Wednesday, 2, October 2013
将来の最高峰クラスへの昇格を視野に、第2のブラドリー・スミスを探すテック3が、延長契約を結んだ英国出身のケントに続き、MotoGPアカデミーを経験したドイツ選手権&ヨーロッパ選手権王者のシュレッターを指名した。
全文を表示 »
フォトギャラリー:
Motorland Aragón:
サーキット情報
全長距離: 5.078 m / 3.155 miles
幅員: 15m
左コーナー数: 10
右コーナー数: 7
直線長: 968 m / 0.601 miles
開設: 2009
改修:
イントロダクション:
An ultra-modern facility, MotorLand Aragón had its roots firmly established thanks to a solid history of street racing in Alcañiz, which hosted events between 1963 and 2003. Safety advice warning against the continuation of this led to the proposal and construction of a sporting complex dedicated to motorsport.
With support from local institutions, renowned German architect Hermann Tilke was commissioned to design the facility. The circuit, which is 5.077km long and has 17 turns, was roundly praised by riders after its first Grand Prix in 2010, and it was rewarded with the IRTA Best Grand Prix of the Year award, the first time a circuit had received the prize in its debut year.
Sales for the %year %gp_name are not yet open.
Thank you for your interest. We will contact you when sales open.
Tickets are no longer for sale