G.P. Red Bull de la República Argentina
ニュース: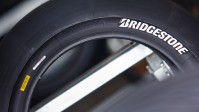 Monday, 28, April 2014
最高峰クラスのライダーたちを足元から支えるタイヤサプライヤー、ブリヂストンにとって、初開催地でのタイヤ供給は挑戦となったが、路面状況が週末を通じて変化する中でしっかりと対応。決勝レースでは、約半数のライダーたちが終盤に自己ベストを記録していた。
全文を表示 »
フォトギャラリー:
Autódromo Termas de Río Hondo:
サーキット情報
全長距離: 4.806 m / 2.986 miles
幅員: 16m
左コーナー数: 5
右コーナー数: 9
直線長: 1.076 m / 0.669 miles
開設: 2008
改修: 2013
イントロダクション: The Termas de Río Hondo Circuit is located 6km from the city which gives the venue its name, in the Province of Santiago del Estero. It was built in a 150 hectare area and officially inaugurated on May 11, 2008, during the visit of Argentina´s Touring Car Racing championship. In 2012, the reconditioning, enlargement and modernization of the circuit began, with the purpose of turning it into Latin America's most modern, safe and vibrant circuit.
Sales for the %year %gp_name are not yet open.
Thank you for your interest. We will contact you when sales open.
Tickets are no longer for sale