GP Monster Energy de Catalunya
ニュース: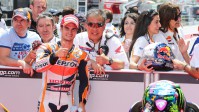 Wednesday, 25, June 2014
2006年から最高峰クラスに参戦するペドロサが、通算140戦目となったホームレースで、通算89度目の表彰台を獲得。アゴスチーニの記録を上回り、ロッシ、ドゥーハンに続くランク3位に浮上した。
全文を表示 »
フォトギャラリー:
Circuit de Barcelona-Catalunya:
サーキット情報
全長距離: 4.727 m / 2.937 miles
幅員: 12m
左コーナー数: 5
右コーナー数: 8
直線長: 1.047 m / 0.651 miles
開設: 1991
改修: 1995
イントロダクション:
In 1989, through the joint collaboration of the Catalan Autonomous Government, the Montmeló Town Council and the Royal Automobile Club of Catalunya (RACC), work began on giving one of Europe's most beautiful cities a state of the art race track to match. The Circuit de Catalunya opened on the doorstep of Barcelona in September 1991 and welcomed its first international event that same month, hosting the Spanish F1 Grand Prix. It went on to host the European Motorcycle Grand Prix and in 1995 became home to the Gran Premio de Catalunya. Considered to be one of the best designed circuits of the recent era, the Circuito de Catalunya won the much coveted IRTA 'Best Grand Prix' trophy for 2001 and has a general admission capacity of 104,000 spectators.
Sales for the %year %gp_name are not yet open.
Thank you for your interest. We will contact you when sales open.
Tickets are no longer for sale