Iveco TT Assen
ニュース: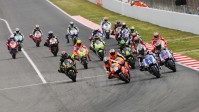 Monday, 2, July 2012
グランプリコミッションは、来年からアンチルーキールールの廃止をはじめ、メーカーがファクトリーチームに最大で2枠、サテライトチームに最大で2枠分のバイクを供給する規定を設けた。
全文を表示 »
フォトギャラリー:
Assen:
サーキット情報
全長距離: 4.542 m / 2.822 miles
幅員: 14m
左コーナー数: 6
右コーナー数: 12
直線長: 487 m / 0.303 miles
開設: 1955
改修: 2012
イントロダクション:
Assen is the only venue to have held a round of the Motorcycle World Championship every year since its creation in 1949. The circuit was purpose built for the Dutch TT in 1955, with previous events having been held on public roads. The track is narrow, with rapid changes in direction, and is fully surrounded by grass banks and grandstands, providing excellent viewing for the hundreds of thousands of fanatical spectators who are drawn to the most prestigious event in Dutch motorsport every year. A huge favourite with riders, Assen is well known for its festive and extravagant atmosphere.
In 1999 the circuit was modified with a new grandstand, control tower, press centre and renovated boxes. Modifications to the Assen circuit over the winter of 2005/6 saw the length of the championship's longest serving track cut from over 6km down to 4.555km/2.83miles.
Sales for the %year %gp_name are not yet open.
Thank you for your interest. We will contact you when sales open.
Tickets are no longer for sale