GRAND PRIX OF QATAR
ニュース: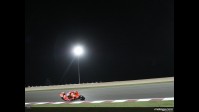 Monday, 28, July 2008
サマーブレーク期間中に提供するシーズン前半戦のレビュー。第一弾は、史上初のナイトレースとなった開幕戦カタールGPを振り返る。
全文を表示 »
フォトギャラリー:
Losail Circuit:
サーキット情報
全長距離: 5.380 m / 3.343 miles
幅員: 12m
左コーナー数: 6
右コーナー数: 10
直線長: 1.068 m / 0.664 miles
開設: 2004
改修:
イントロダクション:
The fabulous Losail International Circuit lies on the outskirts of Doha, the capital city of Qatar. Built in little over a year, the track cost $58 million USD and required round-the-clock dedication from almost 1,000 workers in order to get it ready for the inaugural event - the Marlboro Grand Prix of Qatar on the 2nd October 2004.
The track itself is a flowing layout of 5.4 kilometres, surrounded by artificial grass designed to prevent sand from the neighbouring desert from blowing onto the circuit. The main straight is over a kilometre in length and there is a good mix of medium and high-speed corners, including a couple of quick left-handers which has proved particularly popular with the riders.
In 2008 Qatar celebrated the first night time Grand Prix in history, following the construction of permanent outdoor lighting. The switch to night time racing was a success and has continued to be so, with the Qatar event now established as one of the most spectacular on the MotoGP calendar.
Sales for the %year %gp_name are not yet open.
Thank you for your interest. We will contact you when sales open.
Tickets are no longer for sale