Came IodaRacing Project
ニュース: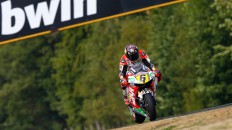 ,
最高峰クラスで初めて初日総合1番手に進出したブラドルだったが、実際には3度の転倒を喫した前戦インディアナポリスGPからフロントの信頼感が完全に回復していないことを明かした。
全文を表示 »
Thursday, 1, January 1970
ヘレスで17人抜きを演じたザルコが、ホームのルマンとムジェロで優勝争いを展開。チームのホームレースで中量級22戦目での初表彰台を獲得して、ランク9位から7位に浮上した。
Came IodaRacing Project Information:
Ioda have been able to count on the vast experience of their General Manager Giampiero Sacchi who is one of the most recognisable faces in the sport having overseen the young careers of several world champions including Rossi, Biaggi, Capirossi, Simoncelli and Lorenzo. As such, the arrival of Danilo Petrucci was an exciting breath of fresh air in 2012 as he took his first steps in the World Championship. The team's ambitious MotoGP™ project now enters into collaboration with BMW-Suter, and with Petrucci on board it is not one to be underestimated.
Management
Giampiero Sacchi

General Manager

Luis Tintore

Project Manager
Danilo Petrucci's Crew
Giovanni Sandi

Technical Manager

Paolo Biasio

Electronics & Bike Development Manager

Ivano Mancurti

Chief Mechanic

Tiziano Verniani

Mechanic

Giovanni Romagnoli

Mechanic

David Galacho

Mechanic

Franco Brugnara

Suspensions Technician
Lukas Pesek's Crew
Giovanni Sandi

Technical Manager

Paolo Biasio

Electronics & Bike Development Manager

Stefano Riminucci

Chief Mechanic

Fabio Zan

Telemetry Engineer

Andrea Giussani

Mechanic

Angelo Angeli

Mechanic

Roberto Filipponi

Mechanic

Franco Brugnara

Suspensions Technician