NGM Mobile Forward Racing
ニュース: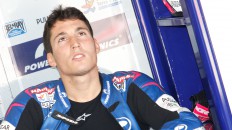 ,
最高峰クラスのオープニンクラスに参戦するフォワード・レーシングは、ヤマハM1のリースパッケージを使用する3年目に向けて、エドワーズ&エスパルガロ体制を結成。中量級は、FTRに変更して、コルシ&パシーニの体制を継続する。
全文を表示 »
NGM Mobile Forward Racing Information:
Originally the first of the CRT projects to be announced, the Forward Racing team had boasted previous experience of the premier class when running a lone Kawasaki for Marco Melandri under the Hayate guise in 2009. Despite MotoGP's elder statesman Colin Edwards finishing last year's opening race as top CRT, even his vast knowledge of development of both machines and tyres was unable to turn the BMW-Suter into a regular contender. As such, the team have switched to the FTR-Kawasaki combination, and have given the Texan some development back-up in the form of Claudio Corti.
Management
Giovanni Cuzari

Team Owner

Marco Curioni

Managing Director
Colin Edwards' Crew
Sergio Verbena

Crew Chief

Manfred Geissler

Data Engineer

Florian Ferracci

Mechanic

Guglielmo Andreini

Mechanic

Jonny Donelli

Mechanic

Paolo Piazza

Mechanic
Claudio Corti's Crew
Bernard Martignac

Crew Chief

Sander Donkers

Data Engineer

Antonio Perez-Haba

Data Engineer

Jurij Pellegrini

Mechanic

Danilo Piazza

Mechanic

Paolo Piazza

Mechanic