Red Bull Grand Prix of The Americas
Notícias: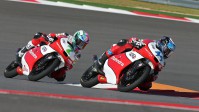 Tuesday, 23, April 2013
Depois da difícil qualificação de ontem, em que terminou em 18º, Miguel Oliveira sabia que tinha uma corrida complicada pela frente e apontou um resultado nos pontos como o objectivo para este domingo, além de começar já a olhar para as próximas provas. Contudo, o jovem da Mahindra Racing fez uma brilhante prova para terminar não só nos pontos, mas para fechar a lista dos cinco primeiros.
leia mais »
Fotos:
Circuit Of The Americas:
Informação do circuito
Perímetro: 5.513 m / 3.426 miles
Largura: 15m
Curvas à esquerda: 11
Curvas à direita: 9
Recta mais longa: 1.200 m / 0.746 miles
Construído: 2012
Modificado:
Introdução:
The Circuit Of The Americas is the first purpose-built Grand Prix facility in the U.S. near Austin, Texas, with a 5.513km track and a capacity for 120,000 fans. Construction of the impressive 1000-acre facility was completed late in 2012, with MotoGP lining up at the track for the first time in 2013.

One of its more distinctive features is near 41m-elevation change with an impressive incline at the end of the home-straight followed by a sharp left. The circuit is one of the most varied on the GP circuit, with a mix of fast straights and tight hairpins, with most sections mirroring at least some part of a famous track around the world.

It was designed by well-known German architect and circuit designer Hermann Tilke. The driving direction is counter clockwise and has a total of 20 corners with 9 right turns and 11 left turns.

Vendas para o %gp_name de %year ainda não estão disponíveis.
Obrigado pelo seu interesse. Entraremos em contacto quandos as vendas começarem.
Os bilhetes já não estão disponíveis para venda
2013 - Resultados de Evento
Pódio
Recordes:
Volta da Pole:
REDDING S.
2'10.577
151.9

Km/h

Volta Mais Rápida:
Lap: 6
TEROL N.
2'11.742
150.6

Km/h
Pódio
Recordes:
Volta da Pole:
RINS A.
2'16.396
145.5

Km/h

Volta Mais Rápida:
Lap: 7
SALOM L.
2'16.345
145.5

Km/h