Paul Bird Motorsport
Notícias: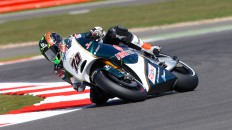 ,
Michael Laverty esperava somar pontos na estreia no GP de Inglaterra, em Silverstone. Apesar do debutante irlandês não ter pontuado, o piloto da PBM ficou muito impressionado com o fim-de-semana e agora espera mudar a sorte.
leia mais »
Thursday, 1, January 1970
Michael Laverty e a PBM escreveram nos seus próprios livros de história no domingo em Jerez; o irlandês estreante do MotoGP™ somou os primeiros pontos no Campeonato do Mundo com o quadro construído pela própria formação.
Paul Bird Motorsport Informação:
Paul Bird's team have been regular campaigners at national level in the UK for many seasons on track and on the roads, and also more recently in the World Superbike Championship. The Cumbrian outfit now embarks on its second season in the premier class of motorcycle racing after an up and down 2012, in which they struggled to get the bike competitive on a consistent basis. Having taken on the exciting Yonny Hernandez, the team is completed by Northern Irishman Michael Laverty, a vastly experienced racer at national level who is desperate to show his capabilities on the elite stage. Hernandez will ride a full ART, whilst Laverty will race the team's own in-house frame.
Management
Paul Bird

Team Principal

Phil Borley

Team Director
Michael Laverty's Crew
Phil Borley

Crew Chief

Daniel Swyer

Chief Mechanic

Gary Reynders

Mechanic

Glen Preece

Tyre Technician
Yonny Hernandez' Crew
Fausto Martinez

Crew Chief

Victor Morgado

Chief Mechanic

Dave Parkes

Mechanic

Steven Kendall

Tyre Technician