AB Motoracing
News: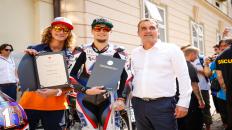 ,
Three riders will participate in their home Grand Prix this weekend at the bwin Grand Prix České republiky as they seek to match Pesek.
read more »
Photos:
AB Motoracing Information:
The father-son partnership that is owner Karel Abraham Sr. and rider Karel Jr. made steady progress through the lower cylinder categories, culminating in victory in the final Moto2™ race of 2010. The Czech team then shocked the paddock by announcing their step up to the MotoGP™ class, but the first Czech rider and team in the premier class have thrived on the support of an entire country, and the package exceeded expectations in 2011, only for the momentum to dip in 2012 and 2013 through injuries. AB Motoracing made the switch to Honda in 2014 and claimed 33 points ending the championship in 17th, and Abraham Jr. will compete on an Open spec RC213V-RS in 2015.
Team Management
Karel Abraham

Team Manager
Karel Abraham Crew
Marco Grana

Chief Mechanic

Amando García Canto

Data Engineer

Yannis Maigret

Mechanic

Martin Havlícek

Mechanic

Martin Nesvadba

Mechanic

Pietro Berti

Mechanic